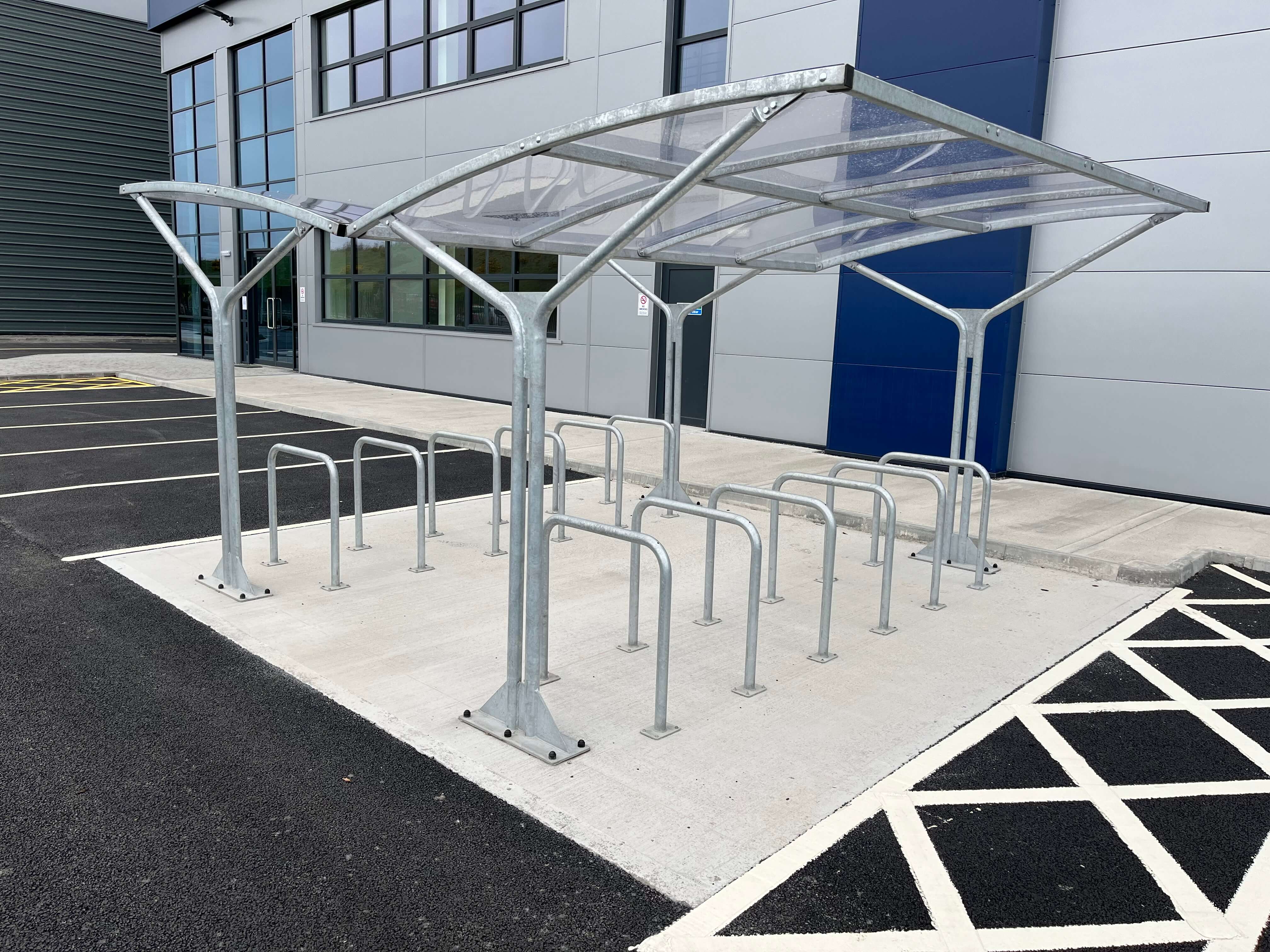 Castlebrowne Civil Engineering South West Business Park, Dublin 24
Castlebrowne were tasked with creating open bike storage facilities for the new South West Business Park warehouse units in Citywest.
Our Brooklyn Bike Shelters offered them the best solution. The overhead shelter style allows for bicycle access from all sides, while still providing excellent cover from bad weather.
The 12no. Sheffield cycle stands also provide high security against bike theft, with storage capacity of up to 24 bikes at once between the 2 shelters in this back to back format.
View Brooklyn Bike Shelter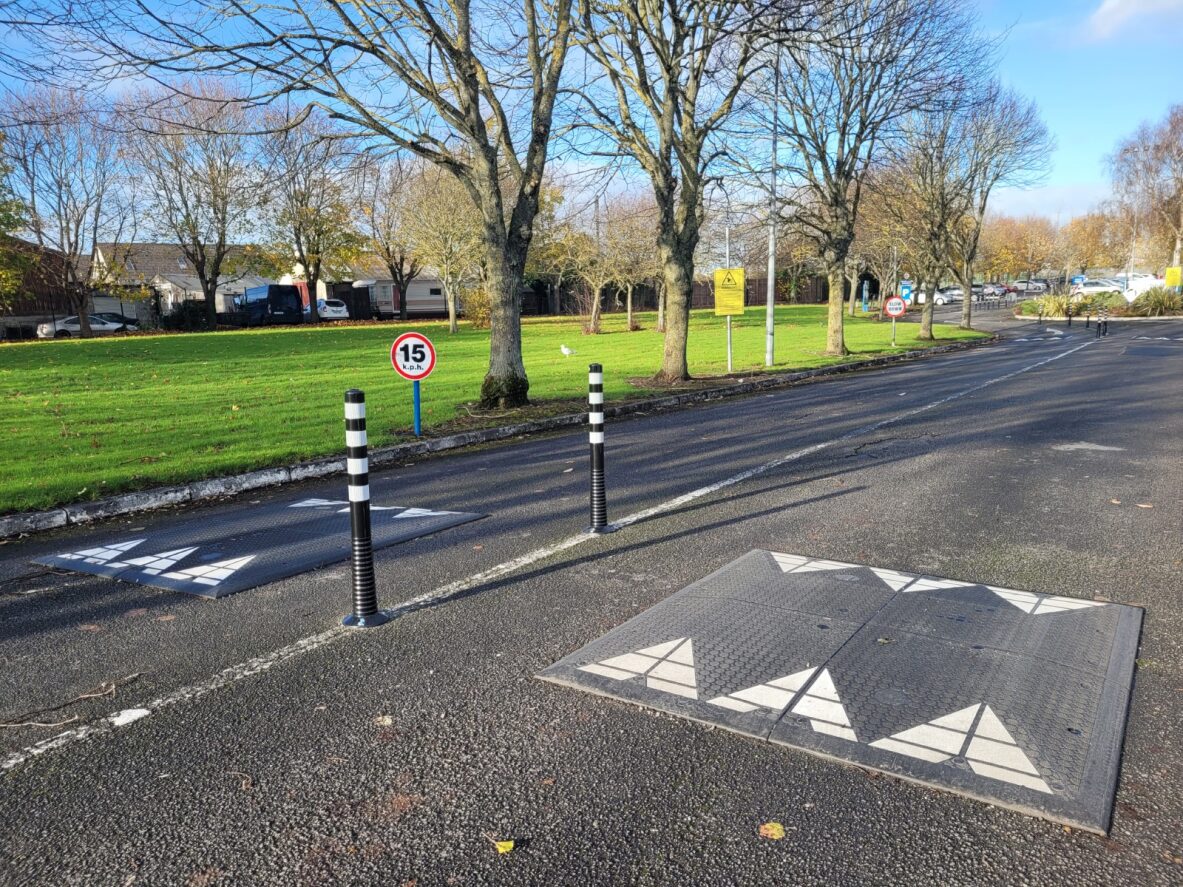 CDETB Finglas Training Centre Poppintree Industrial Estate, Dublin 11
The CDETB were encountering issues where vehicles were speeding throughout the Poppintree Industrial Estate premises on a daily basis. They sought to reduce vehicle speeds effectively to reduce the risk of accidents and collisions.
Our XPT Berlin Speed Cushions were installed to reduce speeds and bring traffic back under control. The modular rubber design meant that on-site disruption was minimal. The cushions now slow vehicles to speeds as low as 15km/h, allowing for a calmer flow of traffic on approach to the roundabout and in other areas around the estate.
The Flexbrite™ Flexible Bollards also helped to separate vehicle traffic and to provide a clear delineation for vehicles, reducing the future risk of collisions.
View XPT Berlin Speed Cushion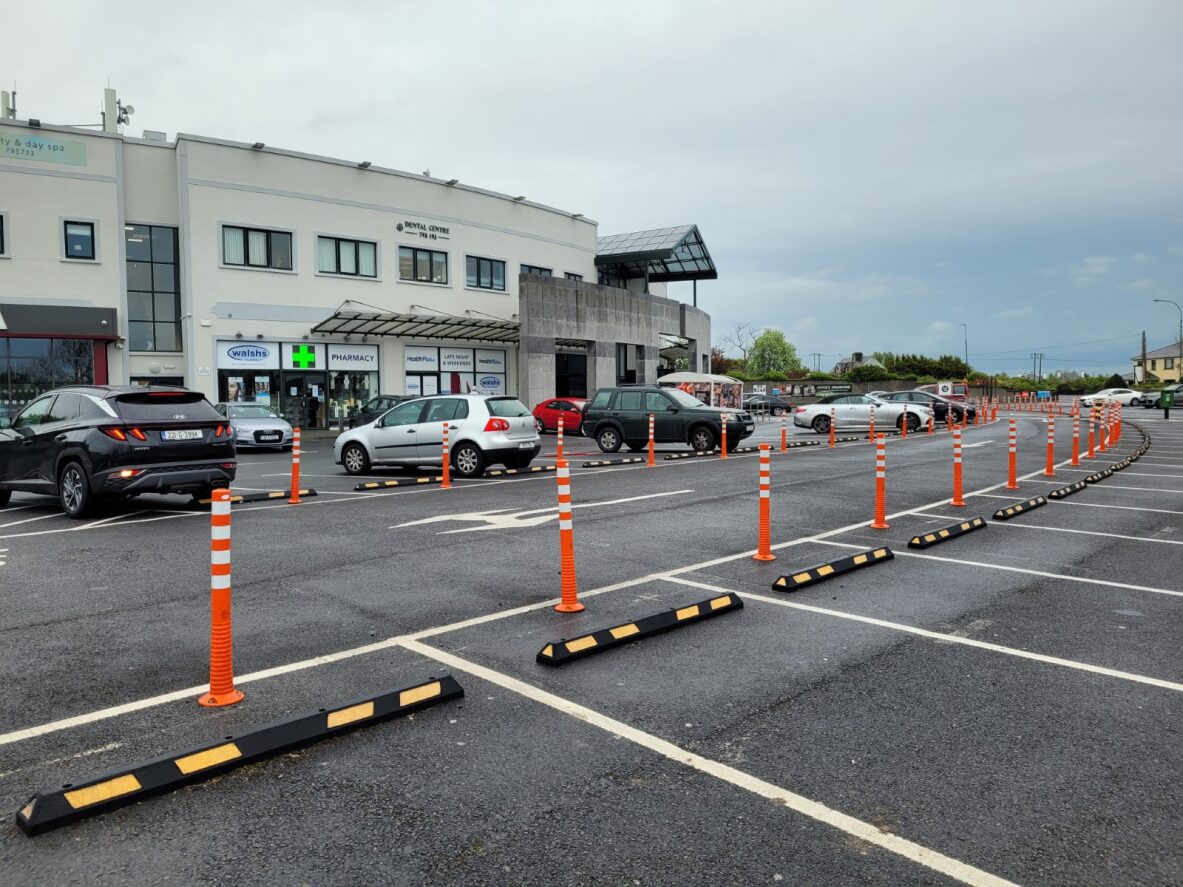 Colas Contracting, Joyce's Supermarket, Oranmore Co. Galway
Colas Contracting needed to separate vehicle traffic and reduce collisions in the busy Joyce's Supermarket car park in Oranmore. The parking space layout meant that vehicles were exposed to collisions in between busy traffic lanes on either side.
The XPT Wheel Stops were installed to prevent vehicles from protruding too far into the vehicle lane. They acted as an excellent visual aid for parking and helped to greatly reduce the risk of impacts.
The additional installation of the Flexbrite™ flexible bollards helped to delineate the parking spaces from the traffic lanes, again reducing the risk of vehicle collisions.
View XPT Wheel Stop 1800mm Yellow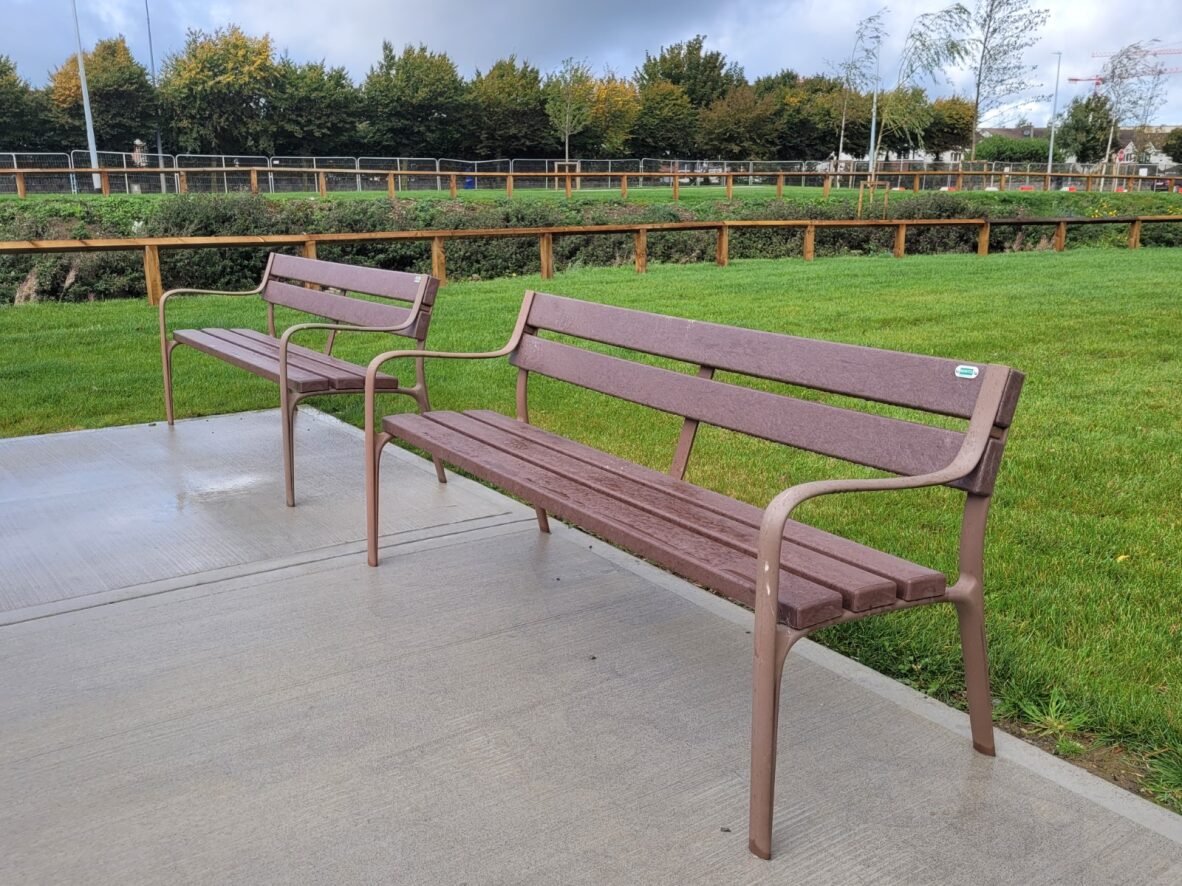 Cairn Homes, Barn Oaks, Citywest, Dublin 24
Cairn Homes required a long-lasting seating solution for a public playground area in Barn Oaks. The seating needed to complement the area while providing a sturdy bench option that lasts outdoors.
The Benito Citizen Eco Recycled Benches has provided them with a maintenance-free design for life - the 100% recycled polymer is guaranteed not to chip, rot or crack outdoors. They are also highly resistant to graffiti and general damage.
The benches were delivered to site fully assembled, helping Cairn to get the seating installed quickly and easily to complete their project on time.
View Benito Citizen Eco Recycled Bench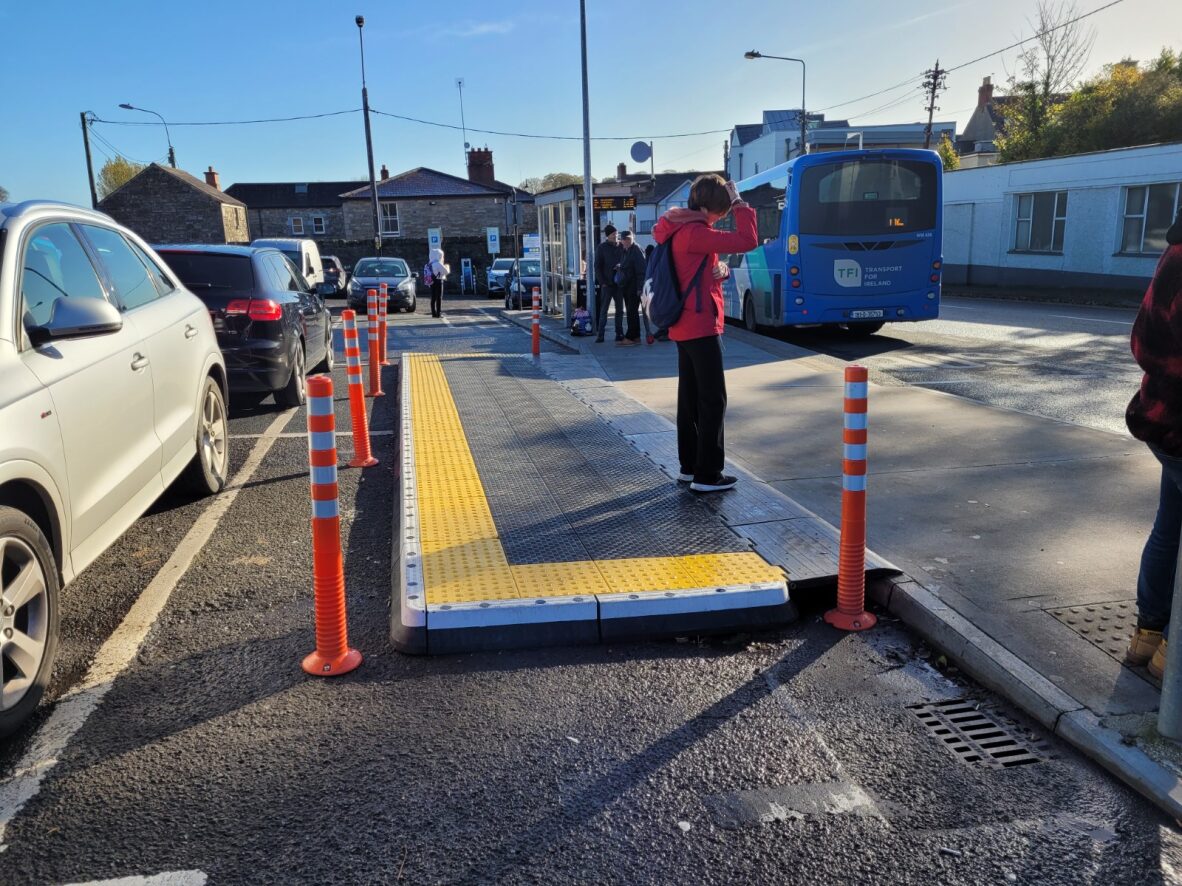 Meath County Council, Abbey Road, Navan, Co. Meath
Meath County Council wanted to extend the footpath on Abbey Road, Navan in order to better accomodate bus passengers waiting for the next bus.
The Vectorial® system by ZICLA helped to transform the parking spaces in the nearby car park to create an extended footpath for pedestrians. The modular sections allowed for fast installation on site, boosting accessibility for passengers and pedestrians using the path.
Meath County Council were able to quickly install the modular platform to instantly extend the footpath on Abbey Road. Now, the footpath has been freed up for more pedestrain traffic, helping to boost bus passenger and pedestrian safety.
View The Vectorial® System by ZICLA
An Post Dublin Parcel Hub, Oak Road, Dublin 12
The An Post Dublin Parcel Hub was officially opened in December 2019. This 50,000 square metre hub became the central hub for automated parcel processing 120,000+ parcels per day.
An Post required a range of safety equipment to protect beams, columns, machinery and of course staff from harm.
Our wide range of warehouse safety equipment was installed across the entire hub, including hoop barriers, warehouse rails, flexible bollards, racking protectors and collision bars.
Our full warehouse range allowed An Post to have a 'one-stop-shop' for everything the needed for this hub, providing full protection to key infrastructure and has helped them to maintain a safe working environment.
View Pittman® Warehouse Range 2023 Catalogue