Warehouse Bollards Best Sellers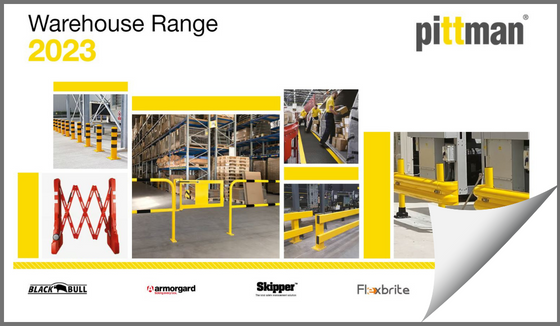 Pittman­® Warehouse Range 2023
See our full range of warehouse protection, including Ireland's best range of warehouse bollards. Fast delivery on stock items. View our digital warehouse catalogue now.
View Catalogue Now
At Pittman we have a wide range of warehouse bollards that are perfect for providing protection to nearby assets, machinery, walls or walkways. Our range of warehouse bollards consists of many different types and sizes of bollards that provide protection on many levels.
For fast delivery consider our Defender Heavy Duty bollards, ideal for the toughest of environments and excellent protection and durability in your warehouse.
The Defender Warehouse Bollard Range
The Defender Warehouse Bollard Bolt Down 89mm can be installed quickly and easily into the area you need them most and can prevent nearby assets from taking damage, especially nearby pillars, walls, equipment or machinery that may be exposed in the open.
These bollards are made from hot-dip galvanised steel and have excellent protection against rusting and corrosion, even if they become chipped or scratched while in use. These warehouse bollards can be purchased in a bolt down or sub-surface format.
FAQ
Most warehouse bollards are installed by bolting them down into the ground via integral base plates.
To install the bollards be sure to measure the area and mark the appropriate places where the bollards will be installed. Ensure that any area where work vehicles will be passing through will have enough room to manoeuvre as normal.
When the area has been marked drill the appropriate hole size for the fixings as needed. Re-insert the bollards into place and tighten each bollard hole and fixing as necessary. Be sure not to overtiighten fixings to avoid them breaking.
There are several industrial bollard options available, ranging from light to heavy duty requirements.
Light-duty - light-duty industrial bollards are suited to areas where there is less frequent work vehicle traffic. These bollards are generally thinner in diameter and offer excellent protection from, trolleys, pallet trucks and more. Consider the Defender Warheouse Bollard Bolt Down Ø 60mm for light duty protection.
Medium-duty - medium duty bollards will work well in areas where there is more frequent work vehicle traffic and risk of work vehicle impacts. These bollards are usually slightly wider in diameter while some may also have a thicker steel wall. Use medium duty bollards to protect warehouse stock and racking from forklifts and reach trucks. The Defender Warehouse Bollard Surface Mount Ø89mm and the Defender Flexi Warehouse Bollard are two excellent options for medium duty requirements.
Heavy-duty - heavy duty industrial bollards are best suited to areas where there is a high risk of impact from heavy work vehicles. Heavy-duty bollards usually offer the best protection in warehouses and can greatly reduce the risk of warehouse accidents. They are generally some of the thickest, widest bollards available and offer excellent protection from heavy forklifts and trucks.
Static - suitable for guiding vehicles in a warehouse and creating a clear boundary between work vehicles, racking and pedestrians. Static bollards can usually withstand an impact or two at low speeds but are not made for frequent impacts.
Flexible - provides increased protection to impacting vehicles. When flexible warehouse bollards bend they can absorb the force and reduce the overall damage to forklifts and other work vehicles. Most flexible warehouse bollards are made for withstanding several impacts.
The force that a warehouse bollard can stop will depend on several factors.
The speed of the impacting vehicle
The size and weight of the impacting vehicle
The size and thickness of the bollard
How well the bollard is installed
If the bollard is static or flexible
To ensure you install the correct bollards for your warehouse you will need to carry out a full risk assessment of the area.