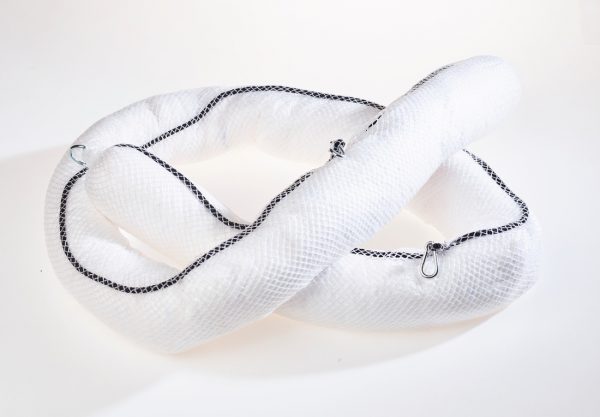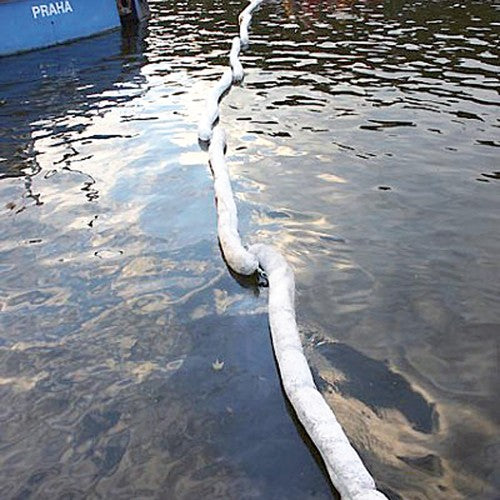 Are you looking for Marine Oil Spill Control Material? Then you have come to the right place. Spilkleen Oil and Fuel Pads are medium weight melt blown pads for increased absorbency, it is ultrasonically bonded for increased strength, it is ideal for outside use and selective recovery of oil from water. The pad delivers an absorbency rate of 0.6litres per pad are designed selectively absorb oil and fuels while repelling water and retains its strength even when wet. Its hydrophobic properties help it to float on water even when entirely saturated.
Next on the list is Spilkleen Long Oil and Fuel Socks, it is a 3 metre sock that is designed for specific absorption and containment of larger spills of oils and fuels while repelling water. They can be used as a barrier to encircle a spill or can be put at the base of oil drums and machinery to absorb any nuisance leaks or drips. It is constructed with stitched spun bonded outer for improved durability and liquid retention properties. The material has an absorptive capacity of 88litres and is a cost effective way of containing spills in the workplace.
Next on the list is Vac, it is a high volume system for oil and oil emulsion clean up. The portable vacuum system standard 100 has a compressed air powdered vacuum generated head and is mounted on a 200litre drum, transforming it into high-volume industrial vacuum. It can be used for pollution clean up, can remove oil, oil emulsion and absorbent containment materials. This and other such products can be bought on Pittman's traffic and safety equipment website.
FAQ
Yes, we can ship worldwide from our Athy, UK and European warehouses. Our warehouse team ship stock items daily across Ireland and UK. For non-stock items or shipping to Europe and the rest of the world contact us at sales@pittman.ie for more information.
Standard delivery on stock items is approximately 2-3 days from date of order. Non-stock items and bespoke items may deliver from one of our UK or European warehouses and can range range from 2 to 8 weeks.
Please note that all delivery times are estimates only and we are not responsible for any event or delay out of our control.
We ship orders daily using Fastway, DHL and various pallet services. The standard shipping charge is €14.50 for single or small quantities that can go with a regular courier.
Larger items and quantities may require delivery via pallet service. Pallet charges range from €80.00 for single pallets or €160.00 for double pallets.
Please note that shipping charges are subject to change at any time.
We accept all Laser, Mastercard, Visa and Paypal payments through our website or over the phone. If you would prefer to pay via bank transfer we can send you a pro-forma invoice with our relevant bank details. Orders are processed once full payment has been received.
We offer a 30-day no quibble returns policy on stock items only. If you would like to return stock items you can do so easily by returning them to our main Athy office at your cost.
Please note all items must be in original condition and packaging. Any refunds will be made once the items are checked by our warehouse team and deemed to be in good condition.
We do not accept returns of non-stock or bespoke items. See full details on our shipping and returns page.