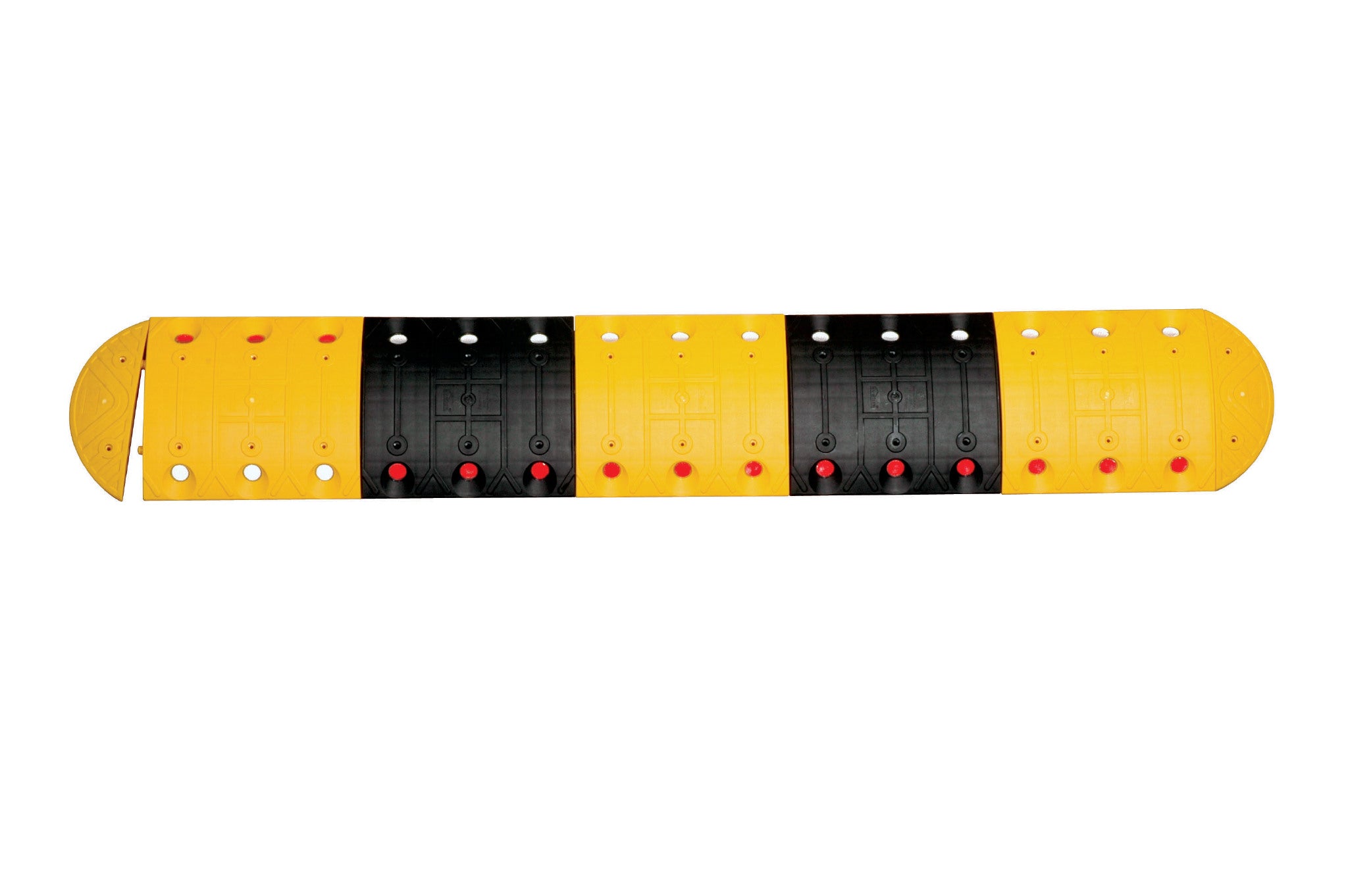 Road humps are used to slow vehicle traffic down and promote better safety. The sharp hump makes for uncomfortable driving should drivers approach at too high a speed. Reducing the speed provides better safety for pedestrians and drivers alike.
What is a road hump used for?
Road humps are used for slowing traffic down and promoting slower driving. The slower a driver proceeds over a speed hump the easier the drive. Driving over a speed hump too fast risks damage to the vehicle.
One of our most popular options are the Safety Rider Speed Hump Kit- these highly durable speed humps come in kit sizes that allow you to install the size ramp you require in your area. The kits consist of as many mid-sections and end caps that are required to do so, with all fixings included with your order. The speed bump position depends on where the speeding drivers are consistenly speeding or where the immediate danger may be to pedestrians.
Another popular option is our Easy Rider Complete Speed Bump Kit - these humps come in 1200 or 1800mm sections that allow for FAST installation as opposed to other road hump options. The added feature of the channel underneath the sections also means that you can run cables from one end to the other, offering excellent protection to wires and cables on roadways, ideal for temporary installations or works.
FAQ
Yes, we can ship worldwide from our Athy, UK and European warehouses. Our warehouse team ship stock items daily across Ireland and UK. For non-stock items or shipping to Europe and the rest of the world contact us at sales@pittman.ie for more information.
Standard delivery on stock items is approximately 2-3 days from date of order. Non-stock items and bespoke items may deliver from one of our UK or European warehouses and can range range from 2 to 8 weeks.
Please note that all delivery times are estimates only and we are not responsible for any event or delay out of our control.
We ship orders daily using Fastway, DHL and various pallet services. The standard shipping charge is €14.50 for single or small quantities that can go with a regular courier.
Larger items and quantities may require delivery via pallet service. Pallet charges range from €80.00 for single pallets or €160.00 for double pallets.
Please note that shipping charges are subject to change at any time.
We accept all Laser, Mastercard, Visa and Paypal payments through our website or over the phone. If you would prefer to pay via bank transfer we can send you a pro-forma invoice with our relevant bank details. Orders are processed once full payment has been received.
We offer a 30-day no quibble returns policy on stock items only. If you would like to return stock items you can do so easily by returning them to our main Athy office at your cost.
Please note all items must be in original condition and packaging. Any refunds will be made once the items are checked by our warehouse team and deemed to be in good condition.
We do not accept returns of non-stock or bespoke items. See full details on our shipping and returns page.